Anyone who has visited the refuge within the last month or so will realize very quickly that the Canada Geese have arrived at Ridgefield.  Many of the fields, and at times the skies, are filled with the musical, cackling/honking sounds of the geese.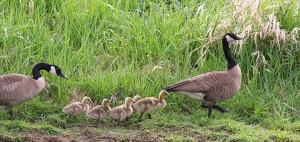 To be technical, most of the geese seen at the refuge now are not even of the species Canada Goose, but are, as of 2004, a separate species called Cackling Goose.  The Cackling Goose, along with its subspecies, Taverner and Aleutian are quite small, just a little larger than a mallard duck.  The Canada Goose, on the other hand, is quite large, almost twice the size of the Cackling Goose. Among its subspecies is the Dusky Canada Goose. Between the two species, Canada Goose and Cackling Goose, there are eleven subspecies, all looking very similar to each other with a great deal of variations in size.  If you have trouble and are confused trying to identify any of the subspecies, don't worry, at times, even the experts have problems.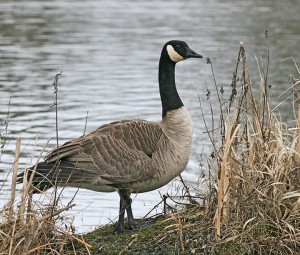 To compound the problem many references list differing subspecies and many times the broad category, Canada Goose, is used for both primary species.
It is the Dusky Canada Goose, though, that provided the reason for Ridgefield NWR to come into being. The refuge was established primarily to provide a wintering habitat for this subspecies of the Canada Goose.  The Dusky's population was declining, mainly attributed to a massive Alaskan earthquake that dramatically changed the nesting habitat of the Dusky.  It was that declining population that brought about the need for the Ridgefield refuge. Currently a group of refuge volunteers continue to monitor the population of the Dusky Goose on a weekly basis throughout the winter months.
So when you see a large flock of geese, you are no doubt seeing Cackling Geese, but among them, at times, there may be a smaller group of larger and darker geese.  These are probably the Dusky Canada Geese.  If one or two have a red collar with black numbers/letters on it, you can be sure of the identification.
Some of the unusual birds that have been sighted over the last month are Greater White-fronted Goose, Snow Goose, Eurasian Wigeon, Green Heron, Peregrine Falcon, Cooper's Hawk, Sharp-shinned Hawk, Merlin, Pectoral Sandpiper, Pileated Woodpecker, American Avocet, Willet, Lesser Yellowlegs, American Pipit, Yellow-shafted Northern Flicker, Varied Thrush, Mew Gull, Barred Owl,  Black Phoebe.
Why don't you make it a point to come out to the refuge this month and perhaps you will be able to find some Dusky Canada Geese.