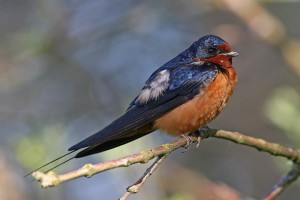 Have you seen it? A Barn Swallow nest right outside the Visitors Station window!  Looking outside the window, I am able to see, not more than five feet away, the barn swallow nest that, although added to each year, has been there for a number of years.  It is built on a roof rafter with the top of the nest less than two inches from the roof.  Many visitors, as they come to the station, have noted the barn swallows and their nesting activity while an equal number have not, even though the swallows are frequently flying around them.  Currently the barn swallow parents are working on the second brood for this season.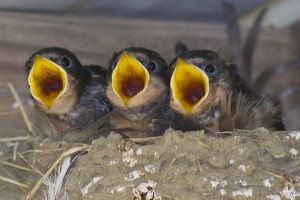 Barn swallows are very interesting birds and are quite common in many parts of the country.  While barn swallows once nested in natural surroundings, they now, for the most part, use man-made structures, generally choosing a horizontal shelf for their open half-cup-shaped nests.  The nests are made of mud pellets with straw, lined with feathers.  They are sturdy structures (one nest was noted to still be in use 20 years after construction). Generally the four to five eggs laid in the nest takes about two weeks to hatch. In another three weeks it is time for fledging.  It is about that time and a little before that you can look at the nest and see it bulging with wide-mouthed youngsters waiting for a bite from mom or dad.
Barn swallows are one of the most wide-spread species of birds on earth.  The North American barn swallows winter in the southern hemisphere, primarily in South America.  In fact, some of these barn swallows have the longest migration route of any North American land bird, traveling 7,000 miles from the Yukon to Brazil and Argentina.
Since barn swallows use the same nest year after year, we assume that the current occupants of the nest outside our refuge window have been here before and will probably be here next year.  Next time you are at the River "S" unit of the refuge, come up to the window of the Visitor Station and turn around.  It is there you will see the nest, and if you hurry, you will probably see the young just before they leave their nest.
Some of the unusual birds seen over the last month include: American White Pelicans, Wilson's Phalarope, Bonaparte's Gull, Yellow-breasted Chat, Lazuli Bunting, Semipalmated Sandpiper, Pectoral Sandpiper, and Western Sandpiper.  As Rest Lake gets shallower we are also beginning to see  back with us Green Heron, Least Sandpiper, Long-billed Dowitcher, and Greater & Lesser Yellowlegs.