"Let's go Snipe hunting" was a phrase I heard as I was growing up, usually in conjunction with playing a trick on someone—someone who literally was left  deep in the woods "holding the bag" waiting for or hunting Snipe.  It wasn't until my teens when I became interested in birds that I found out that there really were illusive birds called Snipe.  Incidentally, the Snipe is difficult to catch even for experienced hunters, so much so that the word "sniper" is derived from it to refer to anyone skilled enough to shoot one.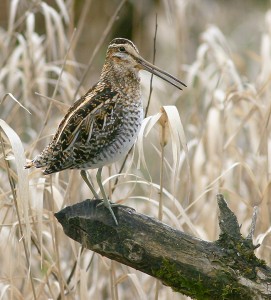 The Wilson's Snipe, recently recognized as a different species from the Common Snipe of Eurasia, can be heard much of the time while on the refuge, especially during the spring and summer months.  But, because of their camouflaged coloration they are not sighted very much. Even though not seen often, they are still designated as common birds at the refuge.
The hollow, low whistled, quavering sound called "winnowing" is used by the male to defend his territory and attract a mate. It is not a vocal sound, but rather is produced by air flowing over the outstretched tail feathers with each wingbeat. The outer tail feathers, thin and curved, are greatly modified to produce this sound.  Snipes also have a loud, monotonous, single note vocal call that can continue for minutes at a time.
The long bill of the Wilson's Snipe is flexible. The tips can be opened and closed with no movement at the base of the bill. Sensory pits at the tip of the bill allow the snipe to feel its prey(small crustaceans) deep in the mud.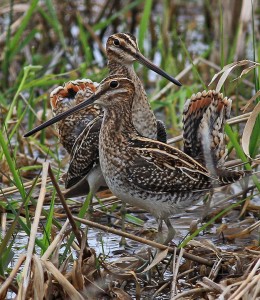 The clutch size of the Wilson's Snipe is almost always four eggs. The male snipe takes the first two chicks to hatch and leaves the nest with them. The female takes the last two and cares for them. Apparently the parents have no contact after that point.
The Snipe is only one of many birds that can be seen at the refuge, each with their own unique identity.  Some of the unusual birds that have been seen this past month are: Greater White-fronted Goose, Redhead, Peregrine Falcon, Black-throated Gray Warbler, Black Swift, Wilson's Phalarope, American White Pelican, and the Bonaparte's Gull.