Reading Goose Collars is a task that is not very familiar to the average person on the street.  Yet, during the winter months, several of us volunteers and a couple of refuge staff do just that every week.  Canada Geese are broken up into several subspecies; Western, Vancouver, Lesser/Tavenor, Dusky, Aleutian, and Cackling—Cackling being the smallest (about the size of a large Mallard duck) and Western, the largest.  Some of these geese are tagged, usually with a collar around the neck, for the purpose of checking populations and their migratory routes.  Many of these geese are tagged in the Yukon and the Kuskowim Delta, which is part of Western Alaska, while others are tagged in southeast Alaska near the Copper River Delta. These areas are the breeding grounds for most of the Canada Geese.
Ridgefield NWR was established in 1965 primarily as a wintering refuge for the Dusky Canada Goose; yet today the Dusky is a minority of all the Canada Geese that use the refuge as a wintering place.  Most flocks of Canada Geese that you see on the refuge are made up of Cackling Geese and secondarily, Lesser/Tavenor Geese.  At times you will see mixed up with these flocks (or by themselves) a group of geese that are somewhat larger and darker. These are the Dusky Geese.  You will also see, generally by themselves in groups of twos and threes a large, lighter Canada Goose which is the Western Canada Goose.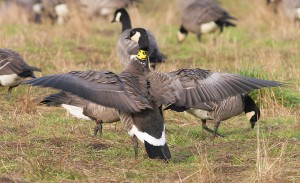 Many of the subspecies of geese have received collars at one time or another.  The Cackling Goose, which is the most abundant goose seen on the refuge has a yellow and black collar.  We very seldom see one of these collars. Most all of the collars that we read are from the Dusky Canada Goose.  These collars are red and have a mix of white letters and numbers on them, usually one vertical and two horizontal.  If you happen to see one of these red collars on a goose, then you are looking at a Dusky Canada Goose—the goose that provided the reason for establishing our refuge!
Some of the unusual birds that were seen this past month are Townsend's Warbler, Northern Shrike, Red-shouldered Hawk (not as frequently over the last couple of weeks), Hairy Woodpecker, Pileated Woodpecker, Common Merganser (seen quite often in Lake River), White-crowned Sparrow, Greater White-fronted Goose, and Merlin.  The swallows (Tree, Violet-green, and Barn) have also returned as of two weeks ago.
Come to the refuge and check out the geese populations while they are still here.  See if you can find a Dusky.