This past December, visitors at Ridgefield NWR were thrilled to see a rare visitor from the Arctic visiting the refuge.  Birding records for the refuge have no listing of the Snowy Owl, so it was with a mixture of awe and excitement that many of us viewed this rarity sitting placidly across the road from Rest Lake.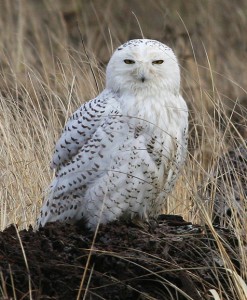 This Snowy Owl was part of a general "irruption" taking place throughout the Northwest and many other northern states.  It sounds like 'eruption' but it's an 'irruption' and it's providing countless thrills for bird lovers throughout the northern states. An irruption is defined as a dramatic, irregular migration of large numbers of birds to areas where they aren't typically found, possibly at a great distance from their normal ranges.
And now, the Snowy Owls are irrupting.  Rarely do they come this far south from their nesting grounds in the Arctic, but sightings reports have come in from many locations in Washington and other northern states.  Apparently, the cause of this influx is a dearth of their favorite food in the arctic, the lemming.  That, of course, is not good news for local voles, mice and other small creatures that are the favorite food source for our local raptors.
The Snowy Owl is the largest North American Owl, and one of the largest owls in the world.  They can have a wing span of over five feet with males taking second place in the size department.  The males also have fewer dark markings than do the females. Snowy Owls hunt for food by hovering in the air looking for prey.  They also watch from a perch. Like all owls, their eyes are enormous in proportion to their head, taking up most of the skull.  Owls cannot move their eyes, so they must turn their entire head to change their line of vision.  They have 14 neck vertebrae, and so they can swivel their head an amazing 270 degrees!  They can literally see behind themselves.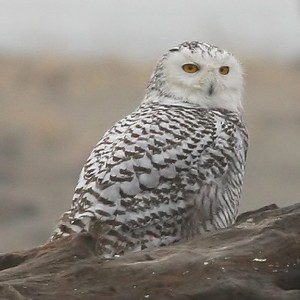 Most Snowy Owls are not completely snowy white.  They range from all white to having dark prominent bars all over, except on their faces which are always white. You can see these different markings on the pictures I have included with this blog. These are pictures I took at Ocean Shores, WA, several years ago during another less intensive irruption. The Snowy Owl also has small "ear tuffs" like some other owls, including our own Great Horned Owl witch has much larger tuffs.  These tuffs have nothing to do with the owl's ears as they are much lower and more forward.
No one can tell just how long this irruption is going to last, but if you haven't yet had the chance to see a Snowy Owl in the wild, take the opportunity if you hear of one being sighted near you, even if you have to drive a few miles.  I'm betting you won't be sorry.
By the way, the last blog I posted,  "Rarer than Rare," listing all of the rare/accidental birds seen at the refuge this past year, was hardly out of the chute when the Snowy Owl appeared at the refuge.  It would have taken one of the first place positions of accidental birds seen at the refuge!